Intensive French Language Courses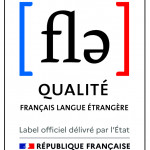 ​The IEF, an institute by Excelia, specialises in teaching French as a Foreign Language and offers a range of courses lasting from 2 weeks to 3 terms. Lessons can be one-to-one or in groups and are for private individuals, business professionals or students.
The IEF has been awarded the French as a Foreign Language Quality Label. This Label is awarded jointly by the Ministry of Higher Education, Research and Innovation, the Ministry of Culture, and the Ministry of Europe and Foreign Affairs.
The French as a Foreign Language FLE Quality Label is a guarantee of quality as regards the services offered (admissions, welcome, accommodation, administrative support, facilities, etc.), the education provided, and the programmes on offer.
Intensive French Language Courses
You can choose to join an Intensive French Language course for a period of your choice, ranging from a minimum of 2 weeks up to 1 year.
The lessons cover:
Business French
Grammar
Written expression
Vocabulary
Oral expression
Culture & Civilisation
Preparation for the TEF
Students are grouped by language level and there is a maximum of 24 learners per class.
French Language & Culture Course
During this course you will attend general French lessons, organised by language level, and have a choice of cultural or sporting activities to help you fully immerse yourself in French life. Depending on your choice of campus, you will have the opportunity to explore French cinema, French gastronomy, museums, Fort Boyard, the Île de Ré and Île d'Oléron, the Loire Châteaux or perhaps take up a sport such as swimming, kayaking, stand-up paddle amongst others!
One-to-one Courses
These are private French lessons. This tailor-made course is for learners of all levels and is designed to meet specific needs and objectives.
This intimate environment will ensure that you progress at your own pace and target the language skills that are most relevant to you. This course is available all year round and can be adapted to suit your timings. Flexible and tailor-made, it will ensure you make rapid progress and gain confidence in French… this course is available on all our campuses.
Duo Course: Intensive + One-to-one
Intensive general French lessons and private tuition. During this course, you will follow general French language lessons according to your level of proficiency and benefit from additional one-to-one lessons. This highly effective formula will allow you to benefit from the class dynamics in the morning and then to improve your skills, according to your level and objectives, during the private tuition sessions…this course is available on all our campuses.
Private Group Courses
The IEF regularly welcomes groups of learners of all ages (min. 18 years old) and language levels for French language training. Course content, as well as cultural and company visits, are tailored to meet the needs and objectives of each group. These courses, which take place throughout the year and on all our campuses, are bespoke and subject to a quote.
Choice of study location: La Rochelle, Paris, Tours or Orleans
More about our La Rochelle campus
More about our Paris campus
More about our Tours campus
More about our Orleans campus
Course fees 2023-2024
| | | | |
| --- | --- | --- | --- |
| Période | Course fees  | Multiservice fee* | Total** |
|  from 2 to 4 weeks | 300€ per week | 125€ | 425€ |
|  from 5 to 8 weeks |  290€ per week | 125€ | 415€ |
|  from 9 to 11 weeks |  270€ per week | 125€ | 395€ |
| 1 term | 2850€ | 125€ | 2975€ |
| 2 terms | 5700€ | 250€ | 5950€ |
| 3 terms | 7700€ | 250€ | 7950€  |
One to One
| | | |
| --- | --- | --- |
| | Course fees | Multiservice fee* |
| Individual | 70€ per hour | 125€ |
| Company | 100€ per hour | 125€ |
* The Multiservice fee gives access to the following school services: Multimedia and Internet network, XL Library (multimedia library), International Student Identity Card (ISIC).
** The total does not include the €100 Student Life and Campus Contribution (CVEC), which all students must pay to the CROUS in order to obtain proof of enrolment. Click here for more information