The FLE Quality Label
FRENCH AS A FOREIGN LANGUAGE QUALITY LABEL
Administered by France Éducation International, the French as a Foreign Language Quality Label aims to identify, support and promote French as a Foreign Language centres that offer quality language courses and services. Today, there are some one hundred accredited centres throughout France, enabling learners to find a centre tailored to their specific needs.
Created by decree in 2007, the Label is awarded by the Ministry of Higher Education, Research and Innovation, the Ministry of Culture, and the Ministry of Europe and Foreign Affairs.
Although the primary objective of this Label is to endorse a range of quality French language courses in the various teaching centres across France, it also provides support for all centres helping them to improve the quality of their services by offering them access to specific tools for their development.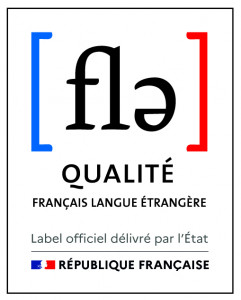 Common European Framework of Reference for Languages (CEFR)
The Common European Framework of Reference for Languages, often referred to as CEFR or CEFRL, is an international standard established by the Council of Europe that aims to validate a person's ability in a foreign language.
There are six different levels: A1, A2, B1, B2, C1 and C2.
For each level, there is the possibility of taking an associated exam so as to formalise your language proficiency, proving your ability in speaking, reading, writing and understanding a foreign language.
Key competencies: simple questions, familiar environment
At A1 level, a learner can…
understand and use familiar everyday expressions as well as very basic phrases for specific needs
introduce themselves and others
ask someone questions about personal details such as where they live, people they know and things they own, and answer the same type of questions
interact in a simple way provided the other person talks slowly and clearly and is prepared to make an effort
A2 – Elementary (Pre-intermediate) Level
Key competencies: descriptions, simple conversations
At A2 level, a learner can…
understand isolated sentences and frequently used expressions relating to areas of most immediate relevance, e.g. very simple personal and family information, shopping, local area, employment
communicate during easy and routine tasks that only require a simple and direct exchange of information on familiar and everyday subjects
describe, in simple terms, their education, close environment and discuss topics which are familiar or of immediate relevance
Key competencies: beginning of autonomy, getting by, expressing opinions
At B1 level, a learner can…
understand the main points when clear and standard language is used and when the topic is familiar, e.g. work, school, leisure
deal with most situations likely to arise whilst travelling in a region where the language is spoken
produce a simple and coherent text on topics which are familiar or of personal interest
describe experiences and events, dreams, hopes and ambitions and briefly give reasons and explanations for projects and ideas
B2 – Upper-Intermediate Level
Key competencies: standard comprehension and conversational ability, expressing an opinion, arguing a point of view
At B2 level, a learner can…
understand the main ideas of a complex text on both practical and abstract topics, including technical discussions in their field of specialisation
talk with a degree of fluency and spontaneity, freely interacting with native speakers without too much stress for either party
produce clear, detailed text on a wide range of subjects and explain a viewpoint on a topical issue, giving the advantages and disadvantages of the various possibilities
(for frequent use in reasonably difficult situations)
Key competencies: spontaneous and fluent communication, fairly good command
At C1 level, a learner can…
understand a wide range of demanding, longer texts, and recognise implicit meaning
express themselves fluently and spontaneously without obviously searching for words
use language effectively and easily for social, academic and professional purposes
talk about complex subjects in a clear, well-structured manner, showing good command of how to organise and articulate a message
Key competencies: effortless comprehension, spontaneous conversation
At C2 level, a learner can…
understand, with ease, virtually everything that they hear or read
reproduce facts and arguments from a variety of spoken and written sources, summarising them in a coherent presentation
express themselves spontaneously, fluently and accurately and differentiate nuances of meaning even in complex situations