Cognac Royal Castle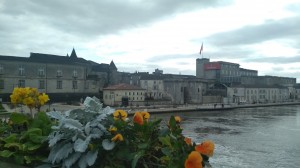 Cognac Royal Castle is a historical landmark in the city of Cognac in the Nouvelle Aquitaine region of France, first built in the 11th century. During King Francis I's reign, he constructed the famous long front of the castle facing the Charente river. Although it was left ruinous during the 17th century, in the 18th century, the merchant Baron Otard took ownership of the court and made it the famous Cognac distillery and is still operating until today.
The castle is open for adult visitors who wish to l appreciate the renowned French Cognac's fine making, named after the city. Visitors can admire the castle's old architecture while learning its history and cognac distillation process, and the magic of its preservation. At the end of the visit, we will have the chance to taste various cognac collections authentically produced in its birthplace.
Every year for our summer school, IEF always organizes visits to cognac producers, including the historical Cognac Royal Castle. Located around 100 km southwest of La Rochelle, this city is easily accessible by car and train. Enjoy your summer with us and taste the authentic Cognac in Cognac!